As live trade shows begin to take place in person, many are enjoying a surge of pent-up demand as attendees and exhibitors jump at the chance to conduct face-to-face business once again. Here are two events that not only pulled off successful iterations last month, but were also the first live, in-person trade shows representing their respective industries to take place since the pandemic began.
Sweets & Snacks Expo
It seems like a no-brainer that the Sweets & Snacks Expo would return to the world during National Candy Month. Held June 22-25 at the Indiana Convention Center in Indianapolis, the annual trade show for the global confectionery and snack industries sweetened the deal as the first food industry trade show to take place in person in more than a year.
Sponsored by the National Confectioners Association, the high-energy event attracted 8,000 attendees and more than 450 chocolate, candy and snack exhibiting companies showcasing two year's worth of the latest innovations in treat and snack products spanning more than 133,000 square feet of expo space, according to show officials.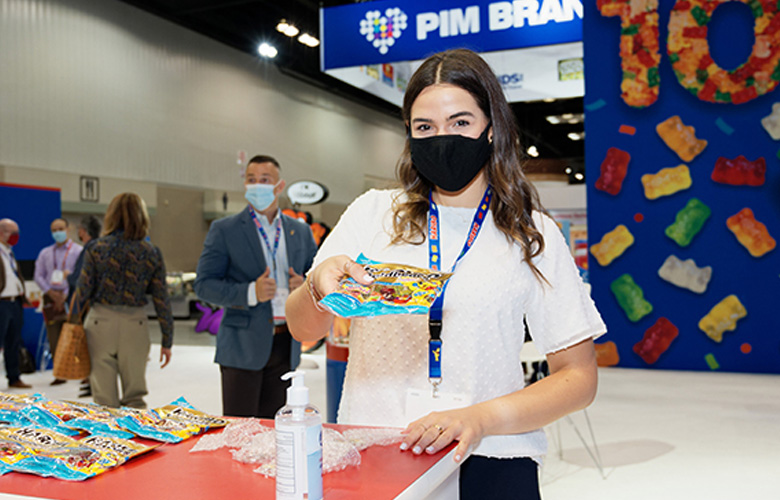 "The Sweets & Snacks Expo is the premier event for the confectionery and snack industries, and it was a success due to the trust we built with our exhibitors, retailers and the city of Indianapolis to return to business safely," said Christopher Gindlesperger, NCA senior vice president of public affairs and communications. "There was pent-up demand to get back to business and our attendees were able to make the meaningful in-person connections that drive their businesses every day."
Designed to provide retailers, manufacturers, brokers and suppliers with the opportunity to discover new trends and inspiration, take part in insightful educational sessions and make meaningful business connections, the bustling show featured new product launches, business-building solutions, merchandising innovations and more than 100 educational opportunities. One showfloor highlight was Destination Retail, which presented ideas on creating excitement around the four largest confectionery sales seasons: Valentine's Day, Easter, Halloween and the Winter holidays.
While the event served as a delicious opportunity to help the confectionery and snack industries reset and recover, it was also a big treat for the city of Indianapolis, which enjoyed $6.3 million in economic impact from the show.
"This event [was] a great move forward for our business community to recover," said Indiana Governor Eric Holcomb. "The candy and snack industries have a strong economic footprint in our state, supporting more than 13,000 jobs. What better way to celebrate the great candy and snack companies that call Indiana home than with the Sweets & Snacks Expo in June, which just happens to be National Candy Month."
The 2022 Sweets & Snacks Expo will return to Chicago's McCormick Place May 24-26.
VMX
As the world's largest and most comprehensive veterinary conference and trade show, the annual Veterinary Meeting & Expo (VMX) serves as a platform for thousands of veterinarians to receive the education and training they need to stay current on the latest advancements in animal medicine.
Held June 6-9 at the Orange County Convention Center in Orlando (OCCC) for the fourth year in a row, the 38th annual VMX marked the first major veterinary industry conference since COVID-19, with nearly 10,500 veterinary professionals from around the world converging upon the hybrid event.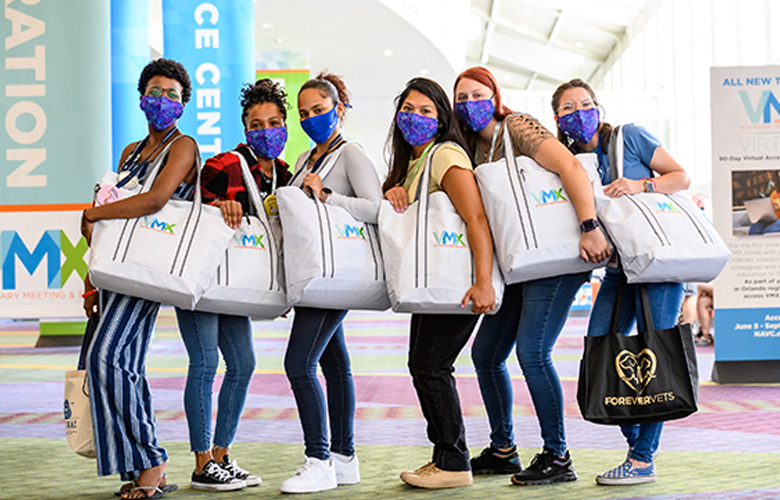 "At a time when people were separated from family and friends this past year, pets provided great companionship and comfort," said Gene O'Neill, CEO of the North American Veterinary Community, which produces the show. "As adoptions of cats, dogs and exotic animals like birds and reptiles reached record levels, so has the need for veterinary care. At VMX, veterinary professionals are learning the latest in diagnosis and treatment so they can provide the best care possible to animals of all kinds."
New technologies and breakthroughs in animal medicine took center stage at VMX via presentations from world-renowned experts, a "Shark Tank"-style pitch competition, live veterinary medicine demonstrations and more than 600 sessions of continuing education and hands-on workshops.
Out on the live showfloor, just under 7,700 attendees mingled with 314 exhibitors in the 71,150-square-foot VMX Expo Hall.
Meanwhile, the show's first-ever Virtual Expo engaged 2,764 virtual attendees from 52 countries spanning six continents with a 3D interactive experience. Along with the ability to check out 239 live booths in the VMX Virtual Expo Hall, participants took full advantage of more than 300 virtual and on-demand educational sessions, including more than 40 live and 150 pre-recorded sessions that allowed learners to interact with the speakers while the sessions played.
"We had a great conference and it was terrific to be back in the Orange County Convention Center!" O'Neill said. "People were happy to be together in person – you could see the smiles behind the masks! The OCCC provided the unsurpassed support they always do to help the NAVC deliver the world-class event our attendees look forward to each year."
Another hybrid edition of VMX will return to its usual January dates at the OCCC Jan. 15-19, 2022.
Source: www.tsnn.com