World of Concrete, which took place June 8-10 in Las Vegas, signaled the return of major trade shows in the United States. With banners flying over telescope cranes, power tools roaring through cement and attendees shaking hands and sometimes hugging, the event not only felt like a reunion but also a solid foundation for the return to business. 
The show kicked off with a ribbon-cutting ceremony of the Las Vegas Convention Center's $1 billion West Hall and the Las Vegas Convention Center Loop, the underground tunnel developed by Elon Musks' The Boring Company that shuttles attendees across the campus in Teslas.
"This convention reinvigorates our commitment to be bold in how we envision the future of infrastructure and recovery of our state and this is only the beginning," said Nevada Gov. Steve Sisolak at the ceremony.
Although understandably smaller than in years past, WOC still attracted 650 exhibiting companies and occupied the LVCC's North Hall, part of the West Hall and some outdoor lots. Attendance was expected to be significantly less than the usual 60,000, a combination of the pandemic and summer being the busiest time for the construction industry.
"People who are coming to events are going to be serious buyers, and the quality is very strong," said Nancy Walsh, president, North America for Informa Markets, which organized the event. She noted that 85% of the customers are small and medium businesses, many of which had been hit hard during the pandemic, and trade shows help them get back on their feet.
The decision to hold a live event was community-driven. Since February, the show's organizers had been gauging past attendees' interest, and 97% saw it as favorable for the industry.
"We heard that our customers wanted to be together and being at the show, I can definitely feel the vibe here," Walsh said. "People are reconnecting. Friends are seeing each other again, and business is being done. It was definitely the right decision."
Scene From the Floor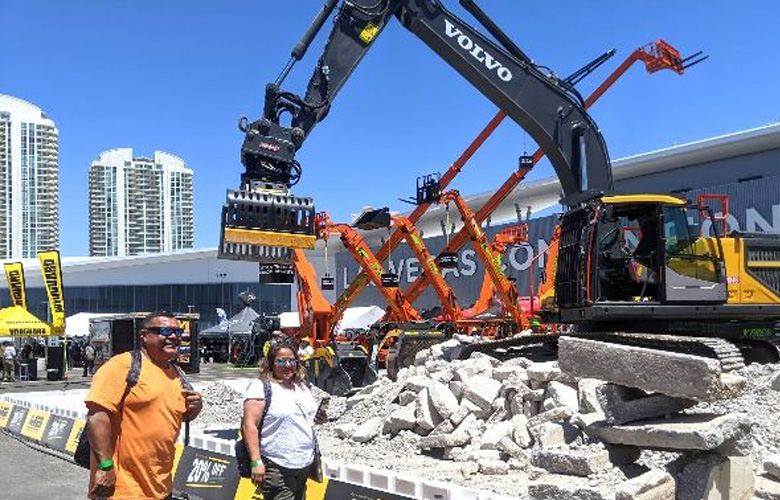 Even though pandemic restrictions were fully lifted in Las Vegas on June 1, the show was committed to creating the safest environment possible and capped capacity limits in all shared and common spaces at 80%. Aisles were spaced 15-20 feet apart. Attendees used digital badges and walked through thermal scanning to enter the exhibit halls and masks were recommended but not required. WOC organizers worked with the LVCC on enhanced cleaning protocols and adhering to local and national health guidelines.
On the showfloor, the excitement was contagious. "Exhibitors are happy to be here and excited for face-to-face interaction, which is the crux of our business," said Attendee Gary Leslie, sales representative for TWI Group, a global event logistics company. "You see people who are here to work. This is what we live for."
Leslie is noticing a growing interest from his customers in shipping to events both domestically and internationally and expects a strong comeback once the travel restrictions are lifted.
Ben Houk, a product manager with Illinois-based Tsurumi Pump, had no reservations about coming to WOC. "We thought it was important coming out of the pandemic to be here," he said. A long-time exhibitor, the company initially had concerns about attendance but halfway into the show already had several positive leads.
Walsh sees a robust trade show calendar in the months to come and expects attendance numbers to climb along with vaccination rates. Informa Markets plans to host 10 more trade shows in Las Vegas alone before the end of the year.
Source: www.tsnn.com